Art Quilt Construction Techniques
Length: 2-5 days
If you want to use the quilt as an expressive medium but sometimes have technical trouble translating your personal vision to the finished quilt, Art Quilt Construction Techniques will give you an expanded vocabulary of skills to help you construct the quilt you imagine. Students will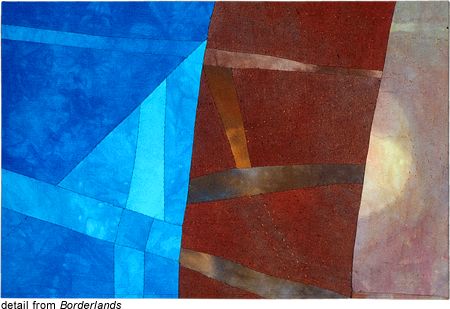 learn ways to add texture to quilts with various methods of fabric manipulation, to add depth to their quilts with strip piecing and cut-throughs, to cut and sew spontaneous curves, sharp-angled insets, and reverse appliqué, and to work with translucent fabrics. We'll discuss finishing techniques, including binding, facing, and hanging. Students will leave with a technique notebook and reference samples. Students who have a specific idea for a quilt in mind but need help deciding how to make that idea a reality will have a chance to consult privately with the instructor.

Working in a Series

Length: 5 days

In this class we will work in a series to explore how design, composition and construction choices enhance and support the intent of our artwork. Starting with some loosening up design exercises, we'll generate several ideas for the beginnings of our series and then work joyfully and thoughtfully on a series of small-scale pieces that will play with figure and ground, color and contrast, texture and depth. Students will use the information, ideas, and inspiration from this series to begin their next, more personal one. Construction techniques will be demonstrated as needed, but the focus of the class will be on artistic intent and design solutions.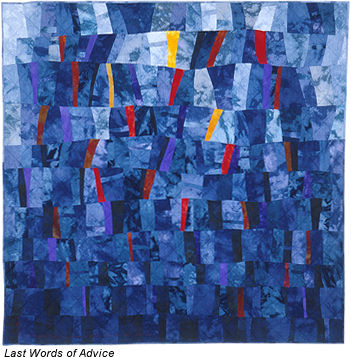 Master Class
Length: 5 days
Level: Intermediate to Advanced
Self-directed students come to this class with work in progress or ideas for new directions. Class time will be divided between studio work, one-on-one consultations, all-class critiques and brainstorming. Interested students will write artist statements and address other professional concerns. In addition we will look at artwork from a variety of sources to inspire us and to provoke dialogue.