Compare and Contrast: A Different Way to Think About Color

Length: 2-5 days

Quilters love color but are sometimes puzzled by its use. It's time to start thinking about color in terms of the company it keeps to figure out why that seemingly vibrant pink just dies when sewn to that lovely blue. This class approaches color use as a choice of hue, value, temperature, intensity and complimentary contrasts. Class exercises and illustrated talks will give you the experience and confidence to use color contrasts to invigorate your quilts.




Elements of Style: Design Basics for Fiber Artists

Length: 5 days

Artists who choose the quilt as their medium often express a desire to learn more about the basics of design but may hesitate to take a design class weighted toward drawing and painting techniques. This class explores the design and emotional possibilities of line, color, and texture through engaging assignments using art supplies with which we're comfortable and adept—fabric, needle, thread, fusible adhesives, paper and glue sticks. Class exercises and slide presentations will help participants learn to confidently manipulate the basic elements of design to enrich their own art practices.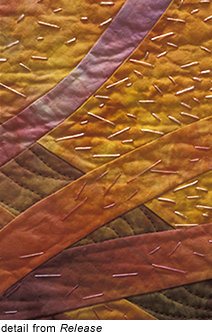 Line Dancing
Length: 2-5 days
Line is a fundamental design element, but one which too often scares fiber artists who fear they can't draw – and who equate the confident use of line with drawing. In this workshop we will explore line in some seriously fun exercises using wire, pen, paper, fabric and thread. We'll spend time looking at some great examples of art that have been enhanced by the magic of line. You will learn about the way you make marks, and the way you make your marks your own. Come prepared to play, laugh, share, and explore.